Love: Lost & Found
A musical revue
The revue will include songs from Broadway musicals on familial and romantic love in a palette of emotional colors from longing to regret to joy. The evening will also include a short play, Sure Thing, by David Ives–a Groundhog Day-like scene in which a boy and a girl play out a plethora of unsuccessful first-meeting strategies in a café before finally hitting the right combination. Sure Thing is presented by special arrangement with Broadway Licensing, LLC, servicing the Dramatists Play Service collection (dramatists.com).
Cast members include (in alphabetical order) Onne Adams, Cameron Adkisson, Courtney Atkinson, Emma Frost, Trent Goodale, EmmaRose Grabow, Andrea Imsland, Riley Jansen, Rachel Kirkpatrick, Karrah Lawrence, Audrey Nelson, Brennan Roden, Norah Schulz, Mary Underwood, and Morgan Wood.
The show is directed by Ron McCutchan, with the assistance of Sara Compton, with choreography by Lindsay Philhower/Main Street Dance Studio.
Tickets are $8 at the door (no reserved seating).
Friday, April 1, and Saturday, April 2, 2022, at 7:00 pm in the Grace Skinner Auditorium
First Show! Friday, April 1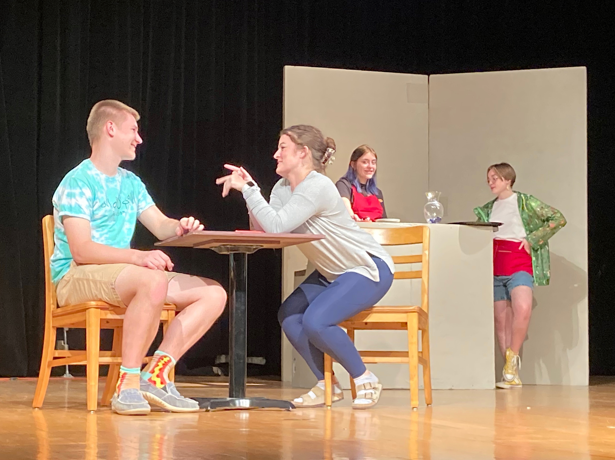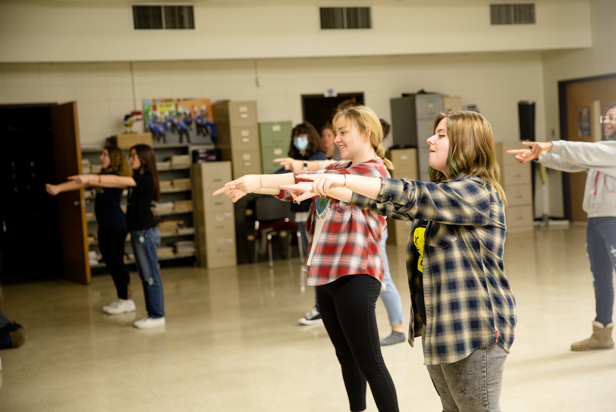 Final Show! Saturday, April 2, 2022