Social Emotional Learning @ PHS
The Princeton High School District 500 learning community is strongly committed to developing safe and healthy environments where everyone thrives academically, socially, and emotionally. Social Emotional Learning (SEL) at PHS is focused on understanding ourselves and the world around us to encourage lifelong learning. SEL equips all community members with tools for success in their everyday lives.
Social and emotional learning (SEL) is defined as the process through which students enhance their ability to integrate thinking, feeling, and behaving to achieve important life tasks. Students competent in SEL are able to recognize and manage their emotions, establish healthy relationships, set positive goals, meet personal and social needs, and make responsible and ethical decisions.
SEL may appear in educational programs consistent with the District's mission and the goals and benchmarks of the Illinois Learning Standards. The Illinois Learning Standards include three goals for students related to SEL:
Develop self-awareness and self-management skills to achieve school and life success.

Use social-awareness and interpersonal skills to establish and maintain positive relationships.

Demonstrate decision-making skills and responsible behaviors in personal, school, and community contexts.
SEL Competencies
Each of the statements aligns with the Collaborative for Academic, Social, & Emotional Learning (CASEL) 5 competencies. CASEL is a global organization that has been committed to evidence-based SEL to support all students' learning and development for over two decades. More information about CASEL's mission & vision can be found here. See the CASEL "wheel" below that highlights the 5 competencies.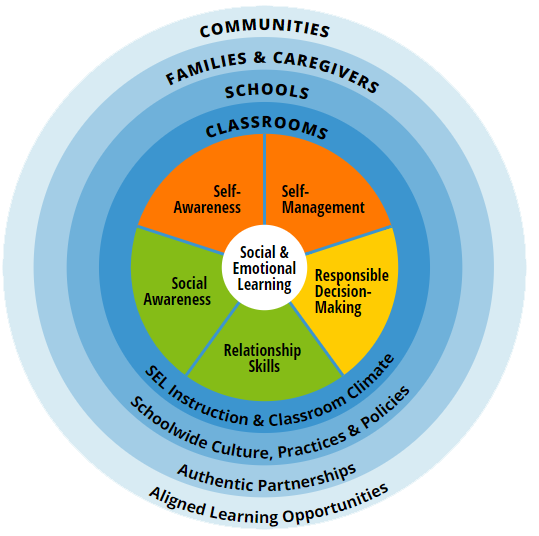 ● We believe developing Self-Awareness skills will allow us to identify/reflect on our strengths,
challenges, and personal identities.
● We believe developing Self-Management skills will allow us to cope, manage, & navigate our
emotions, thoughts, and behaviors in order to set and reach goals.
● We believe developing Social Awareness skills will allow opportunities to develop empathy to
recognize, understand, and appreciate others' feelings and perspectives.
● We believe developing Relationship Skills within a diverse community will allow us opportunities
to connect and collaborate with others, establish meaningful friendships, and support one another.
● We believe developing Responsible Decision-Making skills will allow us to reflect on previous
experiences, understand actions and impact, and make choices to improve our community.