On Sunday, January 30, 2022 Princeton High School inducted 9 new members into the National Honors Society. Five of these new members were from the Senior class and four were from the Junior class. In order to be eligible for consideration, students must be in 11th or 12th grade, must have been in attendance at Princeton High School for one year, and achieved a cumulative grade point average of at least 3.25. A five-member faculty council reviewed the students based on outstanding criteria in the areas of scholarship, service, leadership, and character. Awarding the new members in the auditorium were Princeton High School's Principal Andy Berlinski and NHS Advisor Tameran Polowy. The formerly inducted Senior NHS members including Andrea Imsland, Maggie Davis, Mack Williams, Hannah Muehlschlegel, Reid Orwig, Sarah Harris, Aubreanna Vogel, Drew Knipper, Hope Crouch, Maya Gartin, and Khristian Whitfield conducted the traditional candle-lighting ceremony.
Following the ceremony, a time of celebration and fellowship was held in the cafeteria to honor the new members and their families.
Princeton High School is pleased to announce that the 2021-2022 Senior National Honor Society inductees were: Alex Jagers, Kennedy Kloepping, Walker Menzel, Rachelle Newberry, and Madison Richards
The 2021-22 Junior National Honor Society inductees were: Isabella Ibarra, Lily Keutzer, Kailey Patterson, and Isabella Whitfield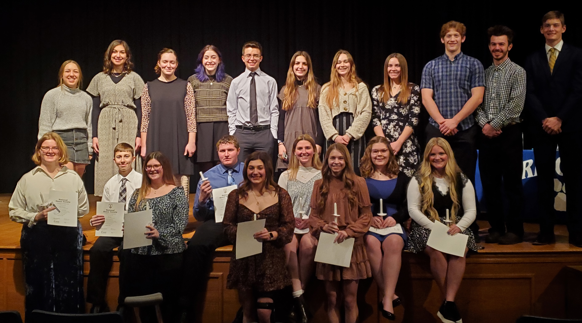 Princeton 2021-22 NHS Induction Ceremony Picture
Front Row (L-R): Kailey Patterson, Alex Jagers, Isabella Whitfield, Walker Menzel, Isabella Ibarra, Madison Richards, Lily Keutzer, Rachelle Newberry, and Kennedy Kloepping
Back Row (L-R): Maggie Davis, Maya Gartin, Sarah Harris, Andrea Imsland, Drew Knipper, Hope Crouch, Hannah Muehlschlegel, Aubreanna Vogel, Reid Orwig, Khristian Whitfield, and Mack Williams.