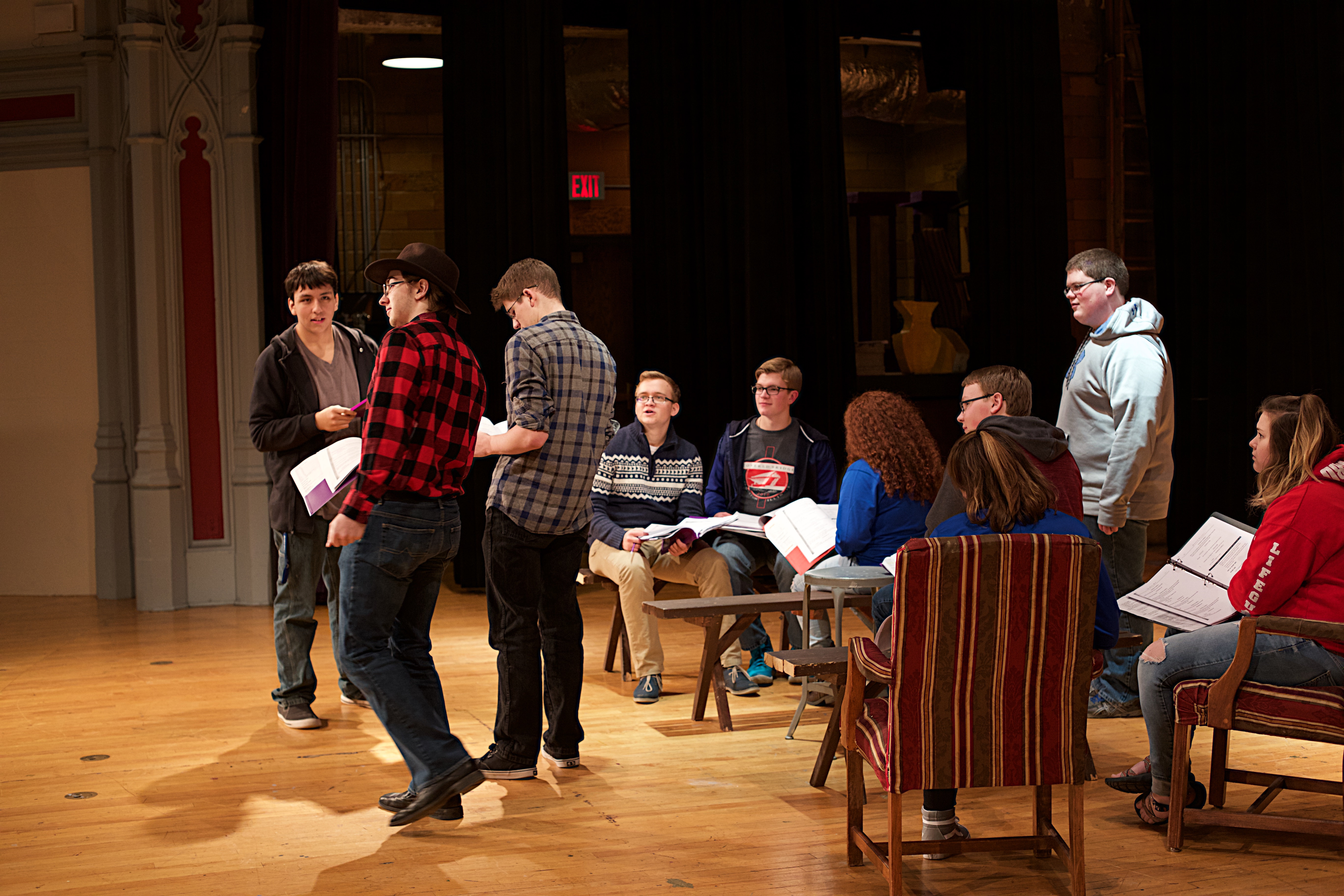 Picture: Cast members of Princeton High School's production of The Music Man practice in Sally Skinner Council Auditorium.  From left to right: Charlie Cowell (Aaron Allen) is caught off guard as Harold HIll (Eldon Hassler) reveals his identity as he's about to quickly depart the train.  The other salesmen who are standing (James  Kierczynski and Michael Kramer) and sitting (Alex Schlesinger, Kyle Degutis, Margaret Hoeffliger, Jessica Purvis, Doran Cotter, and Rebecca Hughes) are equally surprised.
Princeton High School will present the musical, The Music Man, at 7:30 p.m. in the Sally Skinner Council Auditorium on Friday, March 31 and Saturday, April 1.  The Music Man is set in River City, Iowa where con-artist Harold Hill arrives to make some quick money before moving on to his next scam.  Harold, promising to teach the students how to play, tricks the townsfolk into buying music, instruments and uniforms.  Instead of following through with this promise, Harold plans to quickly leave town, escaping the daunting task of teaching the kids.  His scheme seems perfect until he encounters Marian Paroo, the local piano teacher, who makes Harold think twice about this plan.  Tickets to the show are $8 and can be purchased by calling (815) 875-3308, ext. 375.  All seats are reserved.
The cast is lead by senior Eldon Hassler (Harold Hill) and junior Emma Roden (Marian Paroo).  Other senior cast members are Aaron Allen, Alison Brown, Doran Cotter, Kim Duong, Jenna Grimmer, Jacob, Gibson, Tyler Hammitt, Rachel Jensen, Kyle Kinnamon, Kyle Knudsen, Alex Schlesinger, Kiara Tate, Megan Wagenknecht, and Anna Zehr; junior cast members consist of Margaret Hoeffliger, Rebecca Hughes, Nolan Hunt, Jessica Purvis, Zach Quait-Ohlson, Kyra Strom, and Cameron Tieman; sophomore cast members include Nicole Carlone, Kyle Degutis, Macie Jansen, James Kierczynski, Michael Kramer, Asia LaPlante, Lauren McMillan, Thressa Nelson, and Lindsay Wright; and introducing freshman cast members Mia Bowen, Abigail Dionne-Jones, Raquel Johnson, Christian Kinnamon, Riley Lucas, and Christian Smith.  Student Director, Alexis Borg; Student Stage Manager, Margarita Gomez; Director, Gary Passmore; Musical Director, Brandon Crawford; and Orchestral Director, Steven Ohlson.