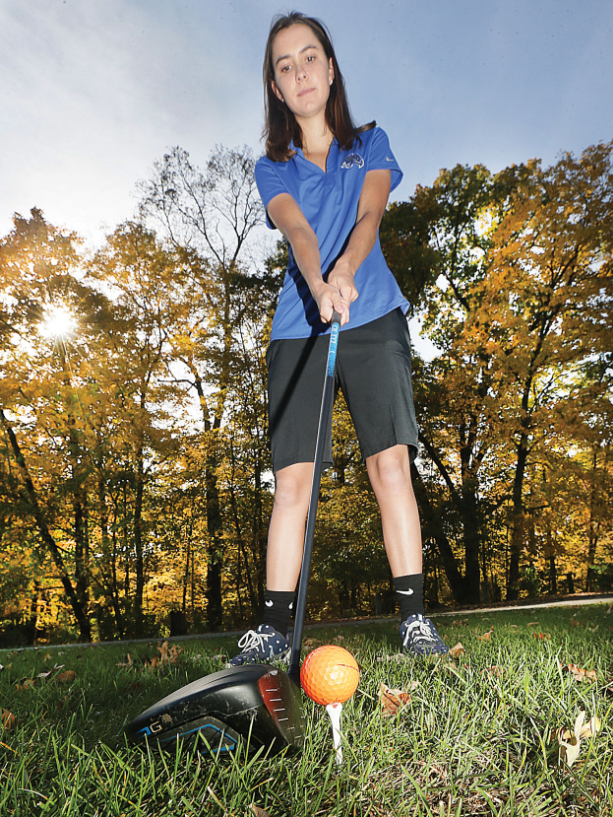 Original Article Courtesy of News Tribune
PRINCETON — As Kelly VanDenBussche prepared to enter high school, she wanted to pick up a third sport.
Some of her friends were going to play golf, so VanDenBussche decided to give it a try.
"I just wanted to play another sport to have three sports," the Princeton senior said. "Some of my friends played so I came out for the fun of it."
While she had fun, VanDenBussche did not display much talent early on.
"I was not good at all," VanDenBussche said. "I shot a 79 on nine holes. That was my worst ever. It was not good.
"(My swing) was really awkward. It took me a long time to figure it out."
Although VanDenBussche put up some high scores and averaged a 67 during her freshman season, Princeton coach Will Gross saw some promise.
"I saw a little bit of (talent) her freshman year," Gross said. "Her freshman year didn't even qualify for the top 6 on varsity at the beginning of the year, but by the end of the year she was playing No. 6. I would have never guessed at that point she would have a sub-45 scoring average as a senior, but every year I saw improvements.
"She was on a team with some really great seniors. I think she watched them and what they were doing and gained a lot of excitement and wanted to show she could improve too and maybe someday get there."
VanDenBussche certainly got there.
From shooting a 79 on nine holes and averaging a 67, VanDenBussche improved to the point of carding a 79 on 18 holes and averaging an area-best 44.2.
VanDenBussche was an eight-time medalist, placed third at the Three Rivers Conference Meet, took fourth at the Rock Falls Invitational and shot an area-best 79 to place third at the Class 1A Galva Regional.
For all of her accomplishments, VanDenBussche is the 2018 NewsTribune Girls Golfer of the Year.
She is the sixth Princeton player to win the award and the first since her former teammate Arraia Hicks in 2015.
"She played solid from beginning to end," Gross said. "She came into the year committed and motivated to carry on the success she had last year. She started in what I consider midseason form for her and she got better each and every week. It was great to see. She worked hard before the season and once the season started she would practice hard.
"I was very impressed with her readiness at the beginning of the year and her ability to continue to grow even though she was playing very well and shooting good scores. It never seemed to be good enough and that's the drive you want in someone."
Even though VanDenBuscche took up the sport just for fun, she did work on her game, but she really began to take it seriously after unexpectedly qualifying for the sectional as a sophomore.
"I always had fun going out and golfing," VanDenBussche said. "That turned into practice for me. I would go out with my friends and we'd play and I was getting better over time. In the summer between my freshman and sophomore years I worked with my dad and started to fix things. Sophomore year I got a little bit better.
"Sophomore year when I qualified for sectional was the point where I was like, 'I probably should take it more seriously.'"
In the summer before her senior year, VanDenBussche went out golfing with her father, Dave, a couple times per week and she'd go to the driving range in then morning to hit a bucket of balls.
She worked to fix the slice on her drive — with the help of techniques on pulling her driver back that Gross showed her — and worked on her swing in her iron game.
The work paid off as VanDenBussche cut 2.7 strokes off her average and earned a medal in every tournament Princeton played.
"It's a really good improvement considering she had a pretty good scoring average last year," Gross said. She had a 67 average as a freshman and went down to about a 56 as a sophomore. To shave those strokes off is a lot easier than when you're already in the mid-40s."
VanDenBussche worked to improve the team as well, and team success meant more to her than individual accolades.
When asked the highlights of the season, she said the Tigresses winning the Three Rivers Conference Meet for the first time and qualifying for sectional as a team.
"As a two-year captain, she really put the team ahead of herself," Gross said. "A lot of kids don't have that much ambition. A lot of kids are about themselves. She made the team better. My biggest highlight with her is what she did to make the other kids better even though that might have sacrificed a little bit of practice time for herself. She got people ready to go and motivated them to do what they needed to do to accomplish what we did as a team.
"She got girls to practice when there wasn't practice. When girls were getting frustrated their games weren't going in the right direction she calmed them down. She'd say, 'Hey, just stick to it. It will work.' She did a lot of that, especially with the younger, less experienced kids on the team. She was always there telling them not to worry about the score so much and just to do then best they can. That goes a long way."
Kevin Chlum can be reached at 220-6939, or at sports@newstrib.com. Follow him on Twitter @NT_SportsEditor.