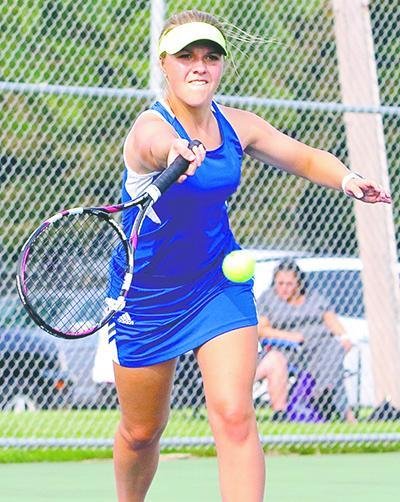 Original Article Courtesy of BCRnews.com
The 2018 girls tennis season for Princeton High School is all about stepping up.
Longtime PHS coach Connie Lind said the Tigresses are up for the challenge.
"Everyone has worked hard to be able to make the move to the next position," Lind said. "Not the starters last year but the new s year, the hardest thing for them to adjust to is playing 2 out of 3 sets where they were playing an 8 game pro set. They are on the courts a lot longer!!"
Senior Allison Blocki, who had what Lind described as a good year at No. 2 singles last year, moves up to the top spot. Lind said Blocki is starting off where she left off and brings experience to the game.
"Allison has worked hard to be able to step up to the No. 1 position," Lind said.
Junior Maddie Devert moves to the varsity to take over the No. 2 singles. Lind said she has improved her overall game.
Senior Julia Hochstatter moves up from No. 2 doubles to No. 1 doubles, joined by classmate Nicole Carlone, who was not a starter last year. Lind said Hochstatter has worked hard on her serve and ground strokes and is a player that takes charge and dictates play on the court.
Carlone, Lind said, has worked hard to fill the other half of the No. 1 doubles, is learning every day and adjusts to the game very well.
Ali Borys, who was No. 3 doubles last year, and Lydia Brown, who played No. 4, have made the climb to No. 2 doubles for their senior season.
Lind said there are several girls that will play No. 3 doubles, a list consisting of Riley Lucas, Gen Charry, Kaewta Usaphrom, Sophia Rucinski, Nyla Thompson, Lindsey Gothard and Mayah Carlson.
PHS has a total of 21 varsity players, including seniors Alexis Forrester, Kenley Grimmer and Paige Smith plus juniors Abby Davis, Calina Durey-Borsch, Kaitlyn Grabill, Terrianne Oestel and Devin Rossman.
"All of the varsity players bring enthusiasm and excitement to matches and games," Lind said.
The Tigresses are 1-1 in dual meets and placed third at the Newman Invitational out of eight teams.
Members of the JV squad are senior Ida Kappel-Boysen, sophomores Isabelle Gerber, Gwen Harris, Anya Kaufman, Monica Lambert, Gabriella Muncey, Alexandra Powelson and Emma Zelenik and freshmen Maggie Davis, Nora Eiken, Audrey Nelson, Rachelle Newberry, Gracie Reynolds, Cheyanne VanBevern and Rachael Woolley.
St. Bede
Todd Volker, a longtime area instructor who took over the St. Bede boys program this spring, has added the duties as the Lady Bruins coach this fall. He inherits a team of seven upperclassmen and 12 F/S for his first team.
At the present, the Lady Bruins line up with a pair of sophomores at singles with No. 1
Emily Szczepaniak and No. 2 Caroline Moskalewicz. Doubles duos are senior Meygan Echols and Katelyn Kapraun at No. 1, juniors Kelly Considine and Olivia Smith at No. 2 and junior Christine Senica and senior Maddi Link at No. 3.
"Our varsity singles looks pretty powerful and young; looking forward to a bit more match experience," Volker said. "Our varsity doubles teams have the bonus of being very comfortable together and being aggressive."
Senior Grace Spolec is also in the swing of things this fall.
Underclassmen include sophomores Audrey Lopez, Claudia Orteza and Lucy Kleczewski plus freshmen Jessica Waddell, Maddie Snyder, Sabrina Zhang, Paige Kraml, Jessica Wadel, Veronica Martin and Madison McGunnigal.